This article goes over frequently asked questions around how to remove / hide / delete classroom sections from your section list. If you do not know what sections are, check out this article.
How can I hide or remove sections I no longer use from my sections list? 
If you have a section that you no longer use, you can hide it by choosing the "Hide Sections" option from the dropdown associated with the given section from your sections table.
Click the dropdown:

Choose "Hide Section":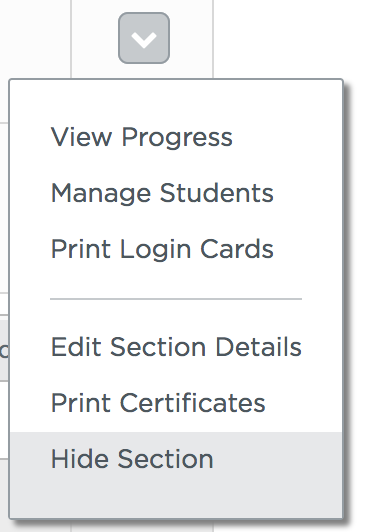 This will remove the section from your main sections list and add it to your "Hidden Sections" list.
Can I view and access my hidden sections? 
Yes, you can still view and access your hidden sections. To do this, click on the button underneath your main sections list that says "View hidden sections":

Note that this button will only appear if you have any hidden sections. Clicking on this button will reveal all your hidden sections. 

You can hide your hidden sections again by clicking on "Hide hidden sections." The hidden sections will also be hidden the next you load the page, even if you do not click this button.

I accidentally hid a section. Can I add it back to my list again?
Yes. To do this, click on the "View hidden sections" button below your main sections list. This should reveal all of your hidden sections. Click on the "Show Section" option from the dropdown menu in the right-most column to add the section back to your main sections list. 

Can my students still sign into sections that are hidden?
Yes, students should still be able to sign into a section even if it is hidden. The main goal for hiding sections is to help reduce the your main list of sections to the set you want to focus on. 
Is there a way to fully delete a section?
You can only delete a section with 0 students. You can remove students from a section in one of two ways:
Go inside the section you want to delete and click on the "Manage students" tab. From there, individually remove each student...OR
Use the "Move students" feature to mass-move all of your students into another section. 
If there are 0 students in your section, you should see a "Delete section" option in the dropdown menu in the right-most column: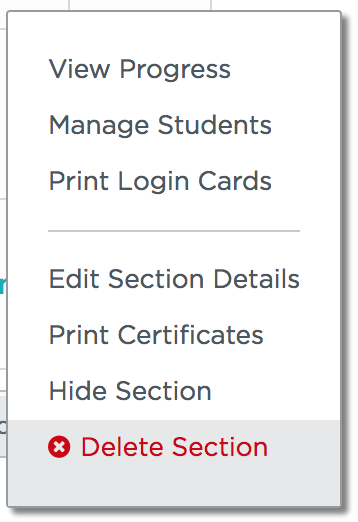 Note: The option to remove students or move students does not exist for sections linked to Google Classroom or Clever. If you want to remove students from these sections, you will need to remove them from Google Classroom or Clever directly and sync using the sync button in the "Manage students" tab. Learn more about using Google Classroom and Clever here.
We strongly encourage you to not remove students from sections where students sign in with word or picture passwords. If you delete a section like this, students will no longer be able to access their accounts unless they created a personal login first. Read more about how students can create a personal login.