How should I choose what student activities to assess / check?
Code.org course materials contain a variety of assessment opportunities that can be used formatively (to check for understanding) or summatively (for evaluation). Sometimes students will submit their work on these levels online through Code.org, and in other cases, they'll work offline on paper, or in other, in-person activities.
Almost all student activities in Code.org curriculum allow for teachers to check for understanding, but starting in the 2019 - 2020 versions of our CS Principles and CS Discoveries courses, we've also nominated select levels or specific locations within lessons as recommended assessment opportunities. These locations were chosen because they allow students to demonstrate learning in a variety of ways and represent good places for teachers to check in on student understanding of key concepts.
You can learn about recommended assessment opportunities in Lesson Plans under the Assessment Opportunities header (CSD-only), or by looking for a check-mark icon (

) in the Lesson Plan.
You can also see which levels are recommended assessment opportunities in the progress pane of the teacher dashboard and on unit overview pages. Typically, these opportunities are marked with a checkmark icon and the level bubbles are filled in with solid purple when students have completed them.
Teacher dashboard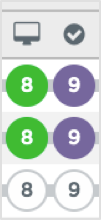 Unit Overview Pages

How can I look at the work my students did and leave feedback for them?
You can look at a student's work on a specific level by going to that level and clicking on the student's name in the blue teacher panel on the right. You can run the student's code from the level view to evaluate its correctness. Programming levels also often include exemplar solutions for teachers to reference.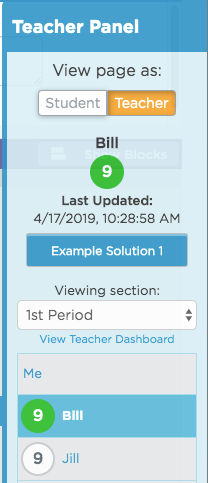 Leaving feedback for students
Please note: you must be a verified teacher to leave feedback for a student in your class.
On programming levels in CS Principles and CS Discoveries, you can use the Teacher Feedback box under the Feedback header to leave specific notes or feedback for each student. Students will see this feedback if they go back to the level you left that feedback on. To leave feedback, first select the student's name in the blue teacher panel, then tap the "Feedback tab." Make sure to hit "save and share" to send the feedback to the student! 

On select CS Discoveries 2019-2020 skill-building levels, there are also digital rubrics in the Feedback tab that you can use to evaluate how well students have demonstrated mastery of key concepts.

Viewing the feedback you've left for students
You can download all the feedback you leave on a Unit for a specific class section as a CSV. To do this, go to the Assessments and Surveys tab of the teacher dashboard, select the unit from the first dropdown menu, and then choose "All teacher feedback in this unit" from the "Select an assessment or survey" dropdown menu.

How do my students see the feedback I leave them?
If you've left them feedback, students will see a banner telling them they have new feedback from their teacher when they log on to Code.org. This banner appears on Course and Unit Overview Pages, and on the Student Homepage, and it will be visible until students have viewed the feedback.

Students can click on the "View feedback" button in the banner to view the feedback on the Teacher Feedback page. 

This page will contain all the feedback the student has received from their teacher. 
New, unread feedback appears with a white background while older feedback has a grey background. 

Students can see both free-form teacher feedback and mini-rubric evaluations (where relevant) from the teacher feedback page.

Students can click on the header of the feedback entry to view the full feedback on the level itself.
If students don't have any new feedback but still want to revisit their older teacher feedback, they can do so from the Student Homepage (have students look for the "Review Feedback" box at the bottom of their "My Courses" section). They can also go directly to studio.code.org/feedback to view this page.

Want to learn more about assessing student work?
Check out these resources: