Creating a classroom section in Code.org allows teachers to assign a course to their students, track their progress, manage their accounts, reset their passwords, and so much more. This article will walk you through all the steps for creating a classroom section that you can then add your students to. You can also click the image below for a video walkthrough on creating sections by our star product manager, Poorva!

Step 1: Sign in
To create a class section, first make sure to sign in to your teacher account. If you don't have a teacher account, you can create one here.
Step 2: Go to "My Dashboard"
Once you are signed in, go to your dashboard at https://studio.code.org/home. If you haven't made a section yet, you'll see this:
Step 3: Start creating a section
Click on "Create a section" to create your first section. This brings up a dialog with a few choices for how to add students to your section.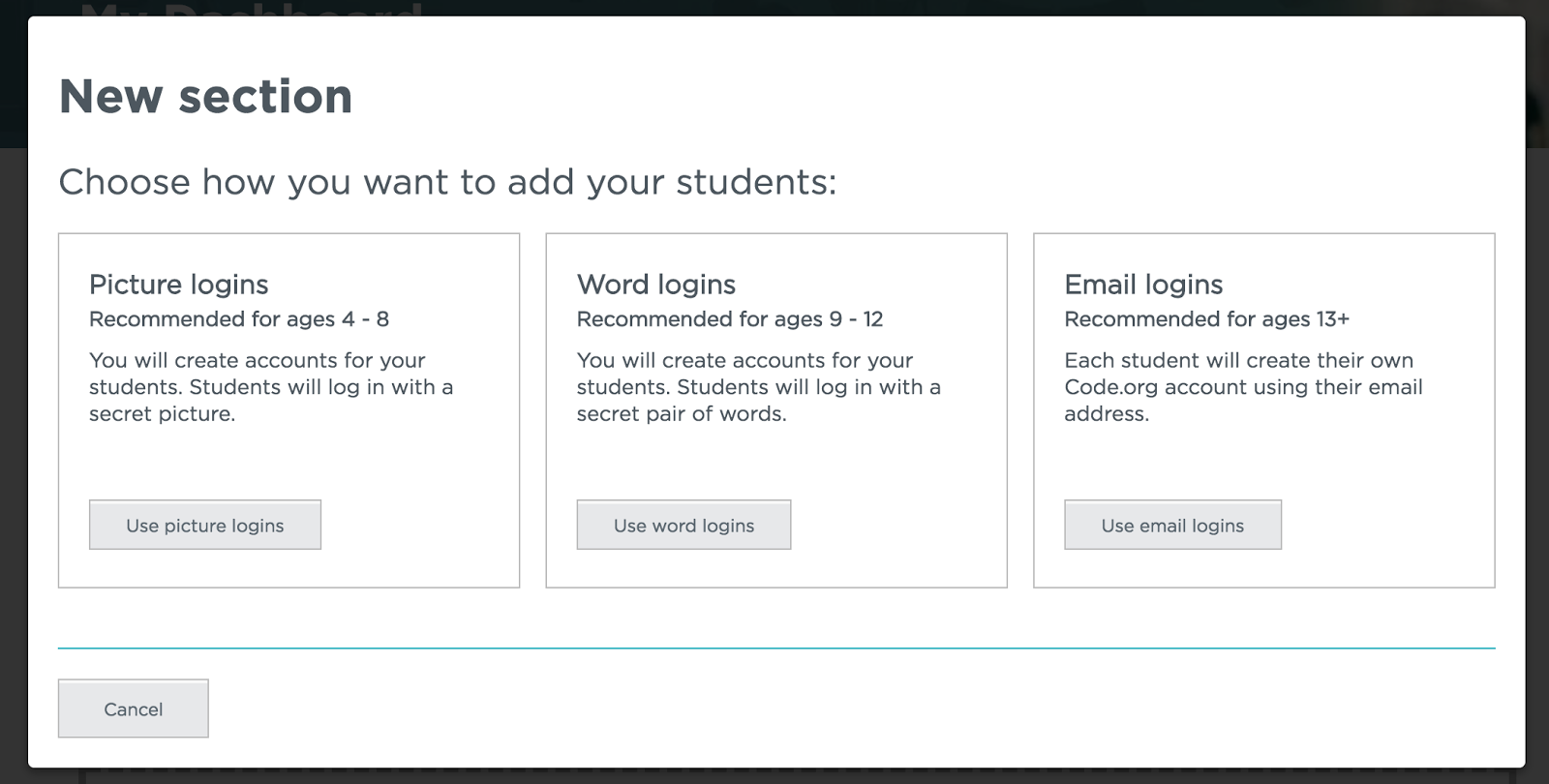 Step 4: Choose how to add students
If you are using Google Classroom or Clever to manage your classroom, you will see a special tile at the bottom of the dialog to import your classroom directly from Google Classroom or Clever. To learn more about creating a Code.org section with Google Classroom or Clever, see these support articles:
If you aren't using Google Classroom or Clever, you have a few other choices:
Email login
Choose email logins if your students already have pre-existing Code.org accounts or they are old enough to create a Code.org account themselves. This requires your students to have an email address.
Picture and word logins
If your students do not have an email address, then you will need to create accounts for them. For this, choose either the picture login type or secret word login type. For both these account types, you will input the student's name and they will be assigned a username and password they will use to sign in. Their password will differ based on whether or not you've chose picture or secret word passwords:
Picture

: Students will sign in using their username and use a predefined picture as their password. Their picture will be automatically assigned to them when you create them an account, but you can update it later if you want to on the Manage Students tab of the Teacher Dashboard. This option is great for younger students who can't read yet or have trouble spelling.

Secret word

: Students will sign in using their username and a pair of simple words. These words will be automatically generated and assigned to students when their account is created, but you can update them later if you want to on the Manage Students tab of the Teacher Dashboard. This is a good option for students who are able to type and spell simple words, but are not old enough to have and manage their own email address.
Step 5: Fill out section details
Once you pick the login type for your students, you will be able to fill out section details in a dialog that looks like this: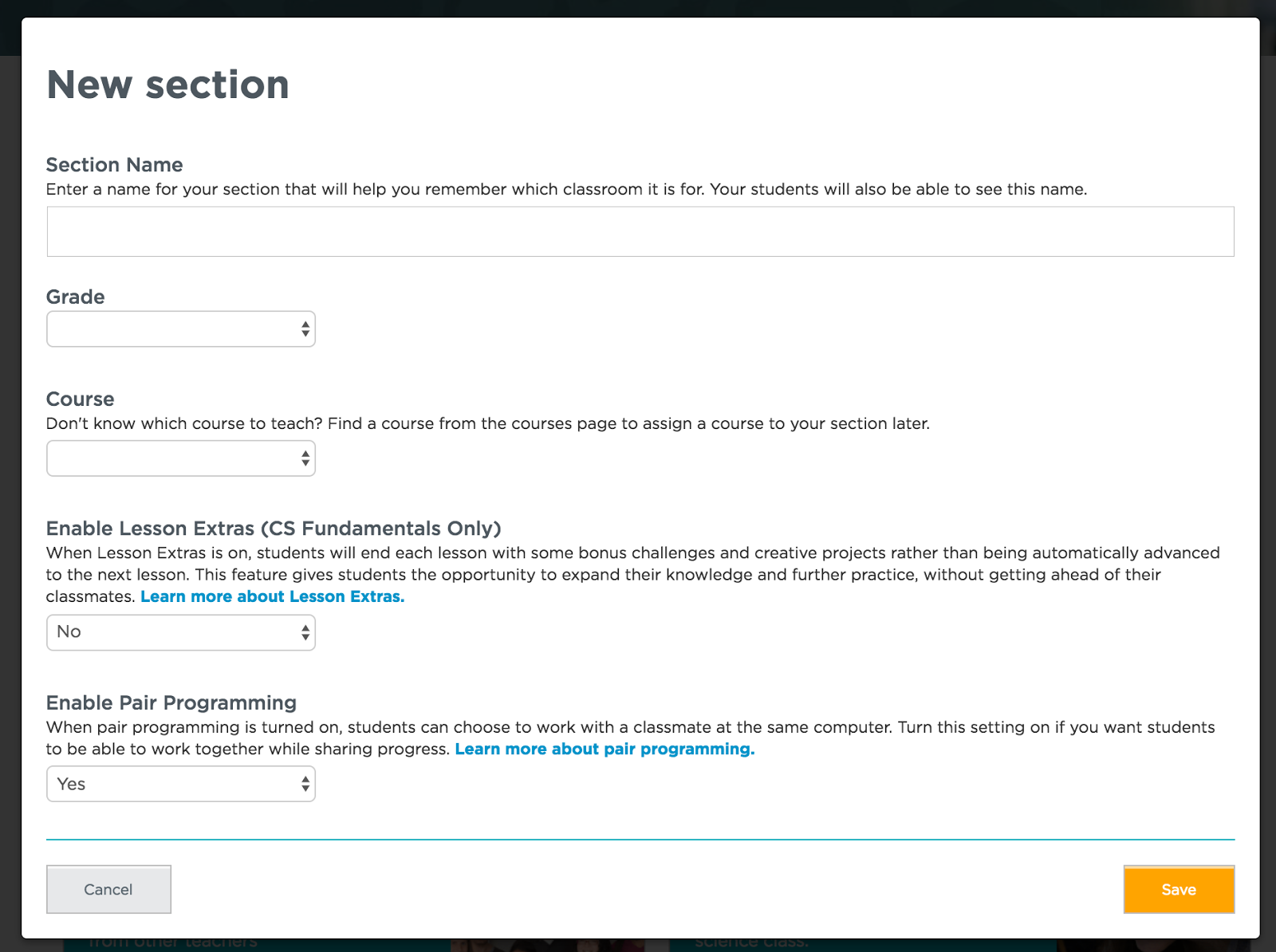 Fill out the section details with the following information:
Section Name
Enter any name you want to give your section that will help you remember what the section is for. Your students will also be able to see the name of the section.
Grade
Choose which grade you are teaching. Pick "Other/Mixed" if you are teaching a mix of grades, or anything other than K-12. This is solely for your own reference, and won't affect the students' experience or which courses they can access.
Course
Choose the course you are planning on teaching. By assigning a course to your section, your students will automatically be taken to the given course page when they log in.
If you are teaching Computer Science Principles or Computer Science Discoveries, you will notice that these courses are broken up into multiple units. You will see a second dropdown that lets you choose the specific unit you want to assign:

Don't know what course to assign? Simply choose "Decide later" in the course dropdown for now. Check out our course catalog to help decide what course to teach.
Enable Lesson Extras (certain courses only)
When Lesson Extras is enabled, students will end each lesson with some bonus challenges and creative projects rather than being automatically advanced to the next lesson. This feature gives students the opportunity to expand their knowledge and further practice, without getting ahead of their classmates. Courses that offer lesson extras are: Courses A-F, Express, Pre-Express, and CS Discoveries (Units 3 and 6). Go here to learn more about this feature.
Enable Pair programming
When pair programming is turned on, students can choose to work with a classmate at the same computer. Leave this setting on if you want students to be able to work together while sharing progress. Go here to learn more about pair programming.
Step 6: Save your section
Once you're done filling out all of the section details, hit the "Save" button in the dialog to save your newly created section. You should get a section like this:

Next steps
You're done creating your first section! To edit the section details for your section, click on the "Edit" button in the rightmost column in the sections table. To create another section, click on the "New section" button above your list of sections. Check out our next article on how to add students to your section and help them sign in.