Welcome to Code.org; we're very excited to have you!
This article covers how to get started teaching on Code.org. Below, check out a new video walkthrough on basic features of Code.org, featuring Jess!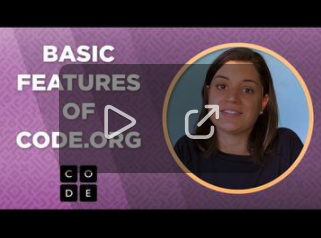 Step 1 - Get an overview of Code.org's courses and materials
You can see all of our courses and their suggested student age ranges on our Course Overview page.
Step 2 - Create a teacher account
Do you already have an account? If so, skip to step 3.
If you don't already have a teacher account on Code.org, start by creating one here. Your teacher account will allow you to create a classroom (AKA section) of students on Code.org; assign work to those students; and track their progress (see which levels and projects they've completed; view their code; and in some cases, leave them feedback on their work).
Note: You do not need a teacher account (and your students do not need their own student accounts) to work on CS Fundamentals or Hour of Code courses; however, without accounts, student work will not be saved and you will not be able to see your students' work.
Step 3 - Setup your classroom on Code.org
Create a section
Your classroom is represented as a section of students on Code.org, and you'll want to create a section for each class you teach (EX: if you're a middle school teacher with three classes of students, you'll want to create three separate sections, one for each class).
Sections help you organize your students and allow you to easily assign work to your students and check on their progress. Look for the "Add a new classroom section" banner on your homepage (make sure you're signed in!) or learn how to create a section here.

Add students to your section
Once you've created a section, you'll want to add students to it. This process will be a bit different based on the type of section you create, but you can learn how to add students here or by going to the Manage Students tab of your teacher dashboard and scrolling to the bottom of the page to see instructions for your section type.
Step 4 - Assign work to your students
Once you've chosen a course, you can assign it to your section of students. Assigning work to your students will help keep them on track - students will be automatically directed to the work you've assigned when they sign in to Code.org. Learn more about assigning work to your students here.
Step 5 - Become a verified teacher and consider professional development
Professional Development
Code.org offers Professional Development for our CS Fundamentals, CS Discoveries, CS Principles, and CSA courses. While our courses can be taught without attending Professional Development, we highly recommend attending: it's a great way to learn more about the curriculum and website as well as build a support network of other computer science teachers. Learn more about Code.org Professional Development.
We also offer online, self-paced professional learning opportunities for CS Discoveries and CS Fundamentals. These courses are designed to give an introduction to the curriculum and the Code.org teacher and student tools. Learn more about Code.org Self-Paced Online Professional Learning.
Verified Teacher Process
If you plan to teach CS Discoveries, CS Principles, or CSA, you'll want to become a verified teacher to get access to assessments, answer keys, and the ability to leave feedback for your students. Being verified is also required to access CSA to begin with (not just for solutions).
To become a verified teacher:
If you attend Professional Development with Code.org before you start teaching, you'll be made a verified teacher automatically.
If you aren't able to attend Professional Development with Code.org before you start teaching, become a verified teacher by following the steps in this article.
Step 6 - Prep for your first class by exploring the course and website
Before you get started teaching, take some time to review the curriculum materials, course lessons, and website tools:
View Curriculum materials (Curriculum Guide, Lesson Plans, Standards mappings, and more) for our CS Fundamentals, CS Discoveries, CS Principles, CSA and Hour of Code courses by visiting any Course Overview Page. To view lesson plan materials, make sure you are signed in to a Code.org account. For more info on how to find various curriculum resources, check the guide here.
Review the course outline and the student flow of activities in a lesson by going to the course overview page of the course you chose for your students. You can find this page by looking for the "View Course" button on the studio.code.org/courses page or (i

f you've visited that course before) you can also find the course overview by going to your homepage (

studio.code.org/home

) while signed in and clicking on the purple box with the course name on it under the "My Courses" header. Once you're viewing the Course Overview page...

Tap on a unit (if available) to view all the lessons and chapters in the unit. The page you're taken to is called the Unit Overview page and will be where you find the features listed in the next few bullets.
Tap on the first level in a lesson to preview the lesson content that students see. Levels look like bubbles or diamonds.

Tap the blue lesson plan button to view the lesson plan for a lesson

Tap the blue 'teacher resources' button to view additional resources for the course or unit:

Hide lessons you don't want your students to work on yet - this helps you prevent students from racing ahead. Learn more.
Learn how to monitor your student's progress - the Teacher Dashboard has lots of features that help you keep track of what your students are doing. Learn more.
Learn how to give feedback on student work (offered in non K-5 courses) - Leave a note on student programming levels so they can see how they're doing. Learn more.